Homeowner Advice from Dave Baker Atlanta's Home Fix-It Guru
Mar 3, 2020, 21:30 PM
You hear him every Saturday morning on 95.5 WSB dispensing home fix-it advice and sharing stories about projects gone awry on his Home Fix It Show. And, while Dave Baker and his radio guests field questions weekly about home repairs, water damage, pest control, painting and more, there is one topic Dave returns to on a regular basis: What Every Homeowner Should Know. So here Dave walks us through his top 5 things EVERY Homeowner Should know: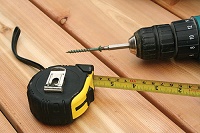 1) Know how to shut off your water. There's a shut-off valve at your home as well as at the street. Find them and learn how to shut them off. This can save you a multitude of problems if you have a water or plumbing issue.

2) Know where the shut-off switch is for your heating and air conditioning system. It usually looks like a regular light switch. If you have a fire and have time to get to it safely, turn the HVAC off.

3) Know where the main breaker is for your home's electricity. It could be in the circuit box or located outside. Older boxes may require turning off each breaker individually. Know where your electric panel is and how it works.

4) Know that you have working smoke detectors in every sleeping room, plus hallways and gathering rooms. Dave recommends installing smoke detectors in mechanical rooms, too. If yours are not hardwired into the home's electrical system, change the batteries twice a year when you change your clocks to go on and off Daylight Savings Time.

5) Know how to get out of your home in case of a fire. Locate the nearest doors and windows from each bedroom and store rope ladders where needed. Make a family plan and identify a location outside where everyone will meet once you have exited the home.
Do YOU know the answers for your home? If not, talk to the experts at the Atlanta Home Show so you'll be prepared in case of a home emergency.

AND… On Saturday, March 21, when the Atlanta Home Show's doors open at 10 a.m., Dave Baker's Home Fix-It Show will be underway in Landscapers Lane. Dave and his guests will tackle a variety of home improvement questions and challenges from DIY projects to bigger concerns like wet basements, poor insulation and much more. Dishing out equal parts humor and expertise, Dave's show is the perfect way to kick off Saturday morning at the Atlanta Home Show! Get your Tickets!